Backend Software Engineer - Cyber
The role
Job ID R109271
Location: London
White Collar Factory (95009), United Kingdom, London, London
Backend Software Engineer - Cyber
Threat modelling is the practice of examining software and systems at the design stage to identify and eliminate insecure patterns before they're manifest in production code. Threat modelling ensures that software and systems continue to evolve securely as new features are added. Capital One aims to fully embed across the software delivery lifecycle, ensuring that all Capital One software is measurably secure by design.
As a back end software engineer working in the Enterprise Threat Modelling team, you will be delivering tools that empower engineers to threat model. These tools aim to capture and track all threat modelling activity across the enterprise, and deliver on our mission to provide meaningful measurements of the quality, and value of threat models. The features you will be adding to our tooling ecosystem will aim to drive down the cost of threat modelling to engineering teams, while also driving up the quality and visibility of the threat models that are produced. You will be working with a diverse team including Threat Modelling Engineers, Front End Engineers and Data Scientists to deliver data-driven tools for discovering and identifying threats in architectures and software designs.
Your focus will be on designing and engineering back-end systems for our products. These products are data-driven, and we strive to collect as much  data as possible on the way users interact with our systems in order to make data-driven decisions on what features to prioritize. You will collaborate closely with front end engineers and data scientists to deliver data-rich applications which are easy and intuitive to use for our customers which include other software engineering teams, product owners, and Cyber security consultants. You will also be expected to drive integration of our products with other systems within the enterprise via APIs.
About you
You thrive in a collaborative and collegial team that employs Agile and Scrum practices to deliver at pace with high visibility

You have a product mindset, and you seek customer and stakeholder feedback on your work and strive to use that feedback to improve the features you deliver

You are happy to apply your skills to whatever is the most important thing for the team to deliver next and willing to swarm on the next milestone or bug fix

You deliver high quality and secure code with good documentation and full test coverage

You value and seek engagement with stakeholders and customers in order to understand the context of your work

You are naturally curious, and always looking to learn new technologies and stay at the leading edge of technology. You enjoy bringing new technologies and practices to the team

You are able to think about the broader context of systems you are building, and able to make appropriate architectural decisions and recommendations to ensure suitable scalability and performance
This role requires a range of skills, including:
Expert level Python knowledge and expertise including modern practices such as type hinting

The development of backend API services using Python with frameworks such as Flask, FastAPI/Starlette, Django, SQLAlchemy

Developing back-end API systems against Relational and NoSQL databases

REST API design and implementation, and standards such as JSONAPI

Collaboration with front-end engineers for building out technical product roadmaps

Modern DevOps practices, including familiarity with CI/CD processes, and associated technologies such as Jenkins and Artifactory

Linux based operating systems and shell scripting

Working in a Cloud environment, AWS preferred

Containerization technologies including Docker and Kubernetes

Integration with services across an enterprise including single sign-on systems

Agile and Scrum working practices and ceremonies
Experience in some of the following is an advantage:
The design and implementation of GraphQL APIs

The use of Websocket based push workflows

Developing Cyber security focused applications, tools and services

Developing and contributing to open source software, and a keen desire to make your work relevant and available to the open source community
Capital One is committed to diversity in the workplace.
If you require a reasonable adjustment, please contact ukrecruitment@capitalone.com  All information will be kept confidential and will only be used for the purpose of applying a reasonable adjustment.
For technical support or questions about Capital One's recruiting process, please send an email to Careers@capitalone.com
Capital One does not provide, endorse nor guarantee and is not liable for third-party products, services, educational tools or other information available through this site.
Capital One Financial is made up of several different entities. Please note that any position posted in Canada is for Capital One Canada, any position posted in the United Kingdom is for Capital One Europe and any position posted in the Philippines is for Capital One Philippines Service Corp. (COPSSC).
Who We Are
At Capital One, we're building a leading information-based technology company. Still founder-led by Chairman and Chief Executive Officer Richard Fairbank, Capital One is on a mission to help our customers succeed by bringing ingenuity, simplicity, and humanity to banking. We measure our efforts by the success our customers enjoy and the advocacy they exhibit. We are succeeding because they are succeeding.
Guided by our shared values, we thrive in an environment where collaboration and openness are valued. We believe that innovation is powered by perspective and that teamwork and respect for each other lead to superior results. We elevate each other and obsess about doing the right thing. Our associates serve with humility and a deep respect for their responsibility in helping our customers achieve their goals and realize their dreams. Together, we are on a quest to change banking for good.
The benefits
Health
Live a healthy life with our private health insurance which is free for your family.
Fitness
Stay in shape with our on-site gym in Nottingham and rooftop running track in London.
Wellbeing
Work-life balance is important to us. So, we are open to flexible working to support your lifestyle.
Finances
We are able to support you with relocation if needed. And we offer an interest-free travel ticket and stock purchase plan.
Training
You'll get access to vast amounts of internal and external conferences and a dedicated internal training platform.
Community
We are proud to support our local tech communities with various meet-ups and events for you to get involved in.
Cyber at
Capital One
The UK Cyber team is part of the bigger US Cyber enterprise. This means that the UK Cyber team benefits from small company agility with big company resources.
As one of the UK's top ten credit card providers, keeping our millions of customers safe is vital to our business. For a Cyber professional like you, that means an opportunity to make a difference, learn and grow.
We're making finance simpler and more human. So our cutting-edge products need to work for our consumers as well as being super secure.
In Cyber at Capital One, we do things at a fast pace in a CI/CD environment. We're not a normal financial services company constrained by a fixed mindset and legacy systems.
We're an AGILE business that dreams big and has the resources to deliver big (our largest systems are already 100% in the Cloud). We're doing whatever it takes to protect our customers; the smartest new people, new technologies, new products, new ideas, new ways of thinking and working.
We invest in our Cyber team, using leading edge tech, our in-house Tech College and external training to keep the team ahead of the curve.
We play an active part in the wider community, hosting Cyber MeetUps at our offices in London, and sponsoring, promoting and attending Cyber events throughout the year.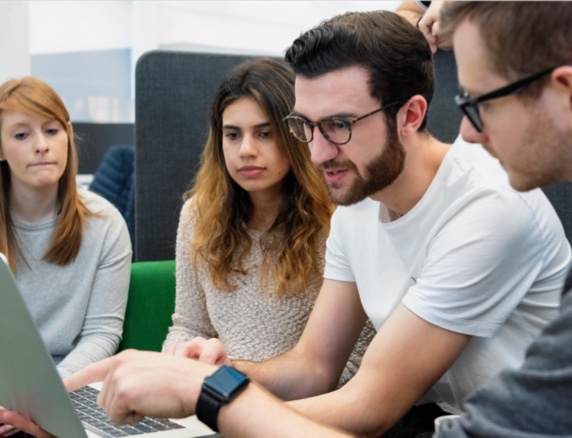 "The

Capital One UK

Cyber business benefits from small company agility with

big company resources

."
Dicky Stafford, Director of Cyber Engineering
Are you the right fit?
You see opportunities to innovate and disrupt where others see obstacles and hurdles. You tell others how they can do something rather than telling them why they can't.

You can convince, explain and reassure people at all levels, from business managers to developers.

You have an appetite to learn and enjoy the challenge of doing things that haven't been done before (data streaming, machine learning). You apply rigorous engineering sense to deliver robust business servicing applications.

You're not afraid to challenge the status quo.
Success profile
A passion for learning and innovating

A lot of what we do is new, so you'll learn by immersing yourself in the wider community, developing yourself and your team along the way.

High quality work

We work in a rapidly changing business, so you'll need a focus on delivering high quality work at a fast pace. Doing the right thing quickly is good; quick and dirty just won't cut it.

Team player

We have a 'wade in and help' mindset in Cyber. You'll thrive on getting stuck in. You'll give your own opinions, share your experiences and perspectives, and listen to those of colleagues. In doing so, you'll learn and help others in the team learn from you.