Engineering at

Capital One
You probably think of Capital One as a credit card provider. But in many ways, we're as much of a technology company as a finance company. And that's why Software Engineering is pivotal to our success.
This is where you can create game-changing new software for our customers. Build new solutions. Tackle all sorts of business challenges. Meaning we have to be super agile. Which makes Tech at Capital One an exciting place to work. Get ready for design thinking, open source software, public cloud, API's, a lean start-up mind-set, and agile framework. You'll get ownership over big projects that will make a real difference to our customers. And we'll give you all the tools you need so you can learn and progress along the way. It's a win win.
Nottingham Trent House (95002), United Kingdom, Nottingham, Nottinghamshire
Senior Software Development Engineer - Services
What you'll do:
Work as part of a self-organised Services​ engineering team

 to design and develop software features that are delightful and vital to the lives of credit card consumers across all walks of life;

Work to achieve the goals and vision articulated by Product Management and your management chain;

Your focus is on a major portion of existing or new team software (e.g., significant component, set of features, mid-size application or service);

Innovate within your team, initiative area and contribute within your technical domain
What we're looking for:
You have a proven ability to deliver high quality applications at scale;

Very strong programming skills and knowledge of building API's using modern OO languages, preferably Java, SOLID principles, SOA, HTTP and REST;

You're excited by the cloud/AWS and the opportunities that it brings;

You're able to effectively communicate and partner across engineering to maximise inner-sourcing opportunities and reduce waste;

You're an advocate for quality and can lead the team leveraging approaches such as Pair Programming, TDD and BDD
What you'll get to learn (any previous experience would be advantageous): 
Working with the cloud/AWS and the opportunities that it brings;

Solving real world problems and being comfortable working in a complex regulated environment
What's in it for you:
Bring us all this - and you'll be handsomely rewarded with a role contributing to the product roadmap for an organisation committed to transformation;

We're continuing our journey into the public cloud and have problems of scale, security, availability and performance for you to help solve;

We love continuous learning and that's why we give you 10% of your time to work on cutting edge innovative projects that shape the way we will work in the future;

We offer high performers strong and diverse career progression, investing heavily in developing great people through our Capital One University training programmes (and appropriate external providers);

Immediate access to our core benefits including pension scheme, bonus, generous holiday entitlement and private medical insurance – with flexible benefits available including season-ticket loans, cycle to work scheme and enhanced parental leave;

Open-plan workspaces and facilities designed to inspire and support you. Our Nottingham head-office has a fully-serviced gym, subsidised restaurant, mindfulness and music rooms. In London, you can heighten your mood with a run on our rooftop running track or an espresso at the Workshop Coffee café;

Find out more through our UK careers site

(http://www.capitalonecareers.co.uk/)

or by exploring the @IAmCapitalOne Twitter tag
Capital One is committed to diversity in the workplace.
If you require a reasonable adjustment, please contact ukrecruitment@capitalone.com  All information will be kept confidential and will only be used for the purpose of applying a reasonable adjustment.
For technical support or questions about Capital One's recruiting process, please send an email to Careers@capitalone.com
Capital One does not provide, endorse nor guarantee and is not liable for third-party products, services, educational tools or other information available through this site.
Capital One Financial is made up of several different entities. Please note that any position posted in Canada is for Capital One Canada, any position posted in the United Kingdom is for Capital One Europe and any position posted in the Philippines is for Capital One Philippines Service Corp. (COPSSC).
Who We Are
At Capital One, we're building a leading information-based technology company. Still founder-led by Chairman and Chief Executive Officer Richard Fairbank, Capital One is on a mission to help our customers succeed by bringing ingenuity, simplicity, and humanity to banking. We measure our efforts by the success our customers enjoy and the advocacy they exhibit. We are succeeding because they are succeeding.
Guided by our shared values, we thrive in an environment where collaboration and openness are valued. We believe that innovation is powered by perspective and that teamwork and respect for each other lead to superior results. We elevate each other and obsess about doing the right thing. Our associates serve with humility and a deep respect for their responsibility in helping our customers achieve their goals and realize their dreams. Together, we are on a quest to change banking for good.
The work perks
Pension
Prepare for your future with our group personal pension scheme.
Parental leave
You'll get an enhanced parental leave package to support you and your growing family.
Wellbeing
Work-life balance is important to us. So we're open to flexible working to support your lifestyle and will provide the equipment and tools you need.
Health
Live a healthy life with our private health insurance, which is free for you and your family.
Training
We'll give you all the training you need to become a People Leader (if you'd like to) and the opportunity to attend industry conferences.
Development
You'll get 10% of your time to work on cutting edge innovative projects outside of your day to day role.
Community
We're proud to support our local tech communities in Nottingham and London. We sponsor Women in Tech Notts, Agile Notts, Tech Notts and many more. And our Coders Programme helps build tech skills in young people.
Finances
We're able to support with relocation if needed. And an interest-free travel ticket and stock purchase plan.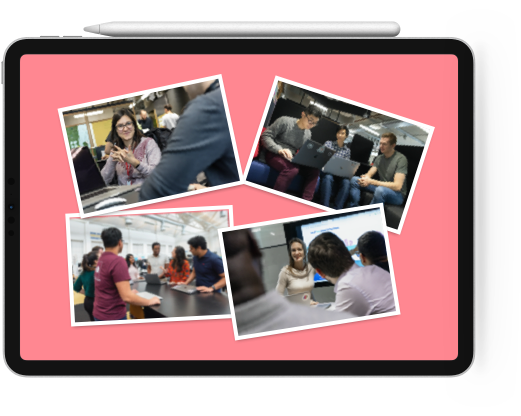 Open source tech.
Open source culture.
We use a wide variety of open source tools and technologies to develop public cloud solutions. Different teams have different needs and different problems to solve.
Open source isn't just a technology preference; it also represents our culture. Our engineers are encouraged to share their thinking, lessons, and solutions both internally and externally.
You'll get to share this open culture with your tribe. Our four engineering tribes are made up of small teams that have freedom over design, development and deploying applications into the cloud.
The best part of my job is being able to give my team the space and time to develop in a way in which suits them.
Lee Winder - Senior Manager, Data Tribe
See Lee's Story
Blog
Learn more about the projects our engineers work on, how they build new features and keep us delivering our mission to change banking for good.