Capital One UK secures a spot on Stonewall's Top 100 list for leading LGBTQ+ inclusive employers
Diversity, Inclusion & Belonging is embedded into the strategic priorities and a key part of life at Capital One UK. Investment in employee networks (such as 'Women In Tech', 'REACH' - Race Equality and Cultural Heritage and 'Outfront' - LGBTQ+) means that diverse voices are heard and used to inform decision-making across the business. This commitment to inclusion doesn't go unnoticed!
Capital One UK is pleased to announce it has made it onto Stonewall's Top 100 Employers 2023 list which recognises exceptional employers who are committed to supporting its LGBTQ+ staff and customers. Capital One UK has been praised for creating a workplace where LGBTQ+ associates can bring their full selves to work and thrive, day to day.
Over the past year, Capital One UK has undertaken significant strides to enhance its inclusivity even more, including the introduction of benefits and guidance designed to support Trans and Non-binary associates. Its active employee network, 'OutFront' was the driving force behind Capital One UK's very visible sponsorship of Nottinghamshire Pride last summer.
It's also seen a lot of activity amongst associates including:
Regular internal blogs from LGBTQ+ associates, leaders and allies about lived experiences both inside and outside the workplace
Trans Awareness Week activity
Internal Pride Week 2022, which featured a fireside chat in partnership with the Equality Allies Business Resource Group, one of Capital One UK's associate-led networks
Engagement with local schools and delivery of LGBTQ+ themed assemblies
Running allyship workshops
Flying the progress flag above Trent House every LGBT History Month (February) and Pride Month (June)
Creating inclusive environments makes the workplace safer and better for everyone – not just LGBTQ+ people.
Nancy Kelley, CEO of Stonewall (she/her) said:
"It's been fantastic to see all of the work put in by Capital One UK over the past year to create a workplace where LGBTQ+ staff feel free to thrive as themselves."
"For many of us, the majority of our time is spent at work, so if we have to hide who we are it can take an enormous personal toll and hold us back from fulfilling our true potential. Creating environments where we can all feel comfortable makes our workplaces a safer, better, and friendlier place for everyone and helps staff be proud of who they are."
"We're incredibly proud to see so many new entrants from a range of sectors on this year's list, who are committed to making LGBTQ+ people's lives better. That's what inclusion is all about and we can't wait to see."
Katy Kasper, Head of Human Resources at Capital One UK (she/her) said:

"At Capital One UK we are incredibly proud of our Stonewall ranking this year. Our position is a recognition of our ongoing efforts to ensure all colleagues across the business can be their authentic selves and their opinions, beliefs, and ideas valued within our community. We remain focused on understanding and advancing LGBTQ+ equality, so we are able to offer an inclusive working environment for all."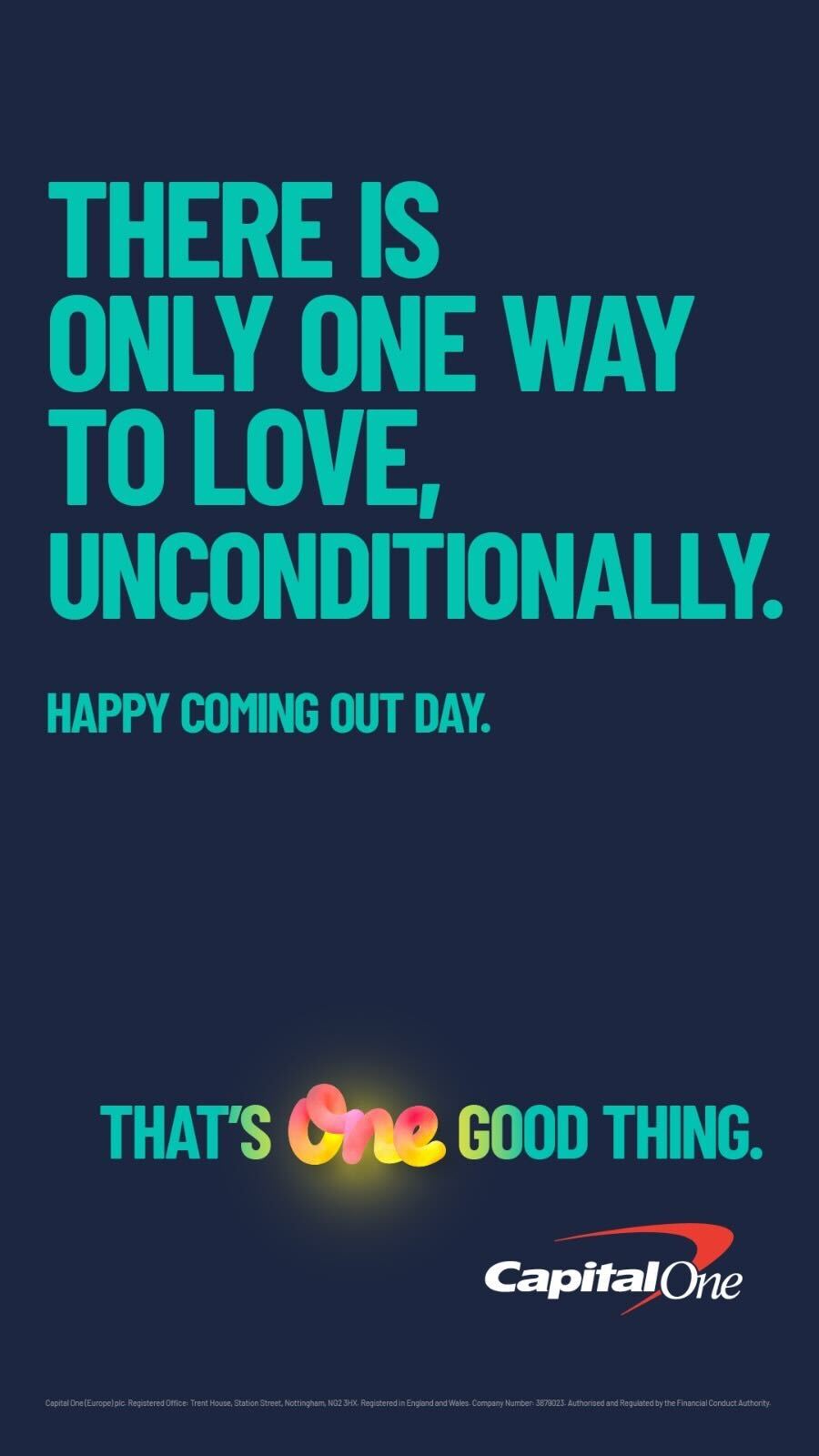 *Image from recent Capital One UK advertising campaign