Code First Girls
Putting women at the forefront of software development
Code First Girls is a community on a mission to transform the tech industry by providing the skills, confidence and inspiration for women and non-binary people to become developers.
Its mission is to reduce the gender diversity gap in tech globally by giving more women the opportunity to learn new skills and pursue great careers in tech. Analysis by Code First girls has forecasted that there will be only 1 qualified woman for every 115 roles by 2025.
Code First Girls has become the largest provider of free coding courses for women in the UK, having delivered over £54 million worth of free technology education, and teaching three times as many women to code as the entire UK university undergraduate system.
Capital One UK is proud to support Code First Girls and has sponsored a number of women using the scheme.
The scheme helps Capital One UK recruit candidates from different university backgrounds by providing an honorary degree for coding and development. This gives an amazing additional group of female candidates the opportunity to be part of the Capital One UK internship and graduate schemes.
The sponsorship has helped three women to join the Capital One UK Software Academy Internship Programme which is supporting them in their penultimate year of university studies. Two interns have also received an offer to join our Graduate Scheme in 2023.
Capital One UK has also seen three other success stories with three sponsored women starting their careers in tech by joining our Software Academy Graduate Programme in September 2022.
We caught up with a couple of associates to find out more about their experience with Code First Girls:
"The Code First Girls degree has been an amazing experience! I come from a Psychology background and I had no idea that a career in Tech was an option for me. I learned a lot of new principles and concepts during the CFD degree and both Code First Girls and Capital One UK has been very supportive during and after the course."
Lara-Michelle Noack, Cloud Engineer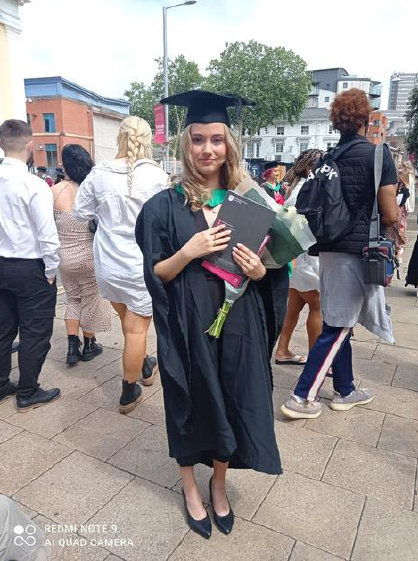 "Code First Girls was a massively beneficial and enjoyable experience for me. Having previously done a Biochemistry degree Code First Girls gave me the opportunity to try coding out for the first time and see that I really enjoyed it. They also gave me the skills and confidence to pursue a career at Capital One which I'm very grateful for."
Rebecca Jade-Clarke, Mobile Quality Engineer